Neurological Rehabilitation
---
Neurological Rehabilitation provides specialised management for people who have impairments as a result of brain or spinal cord injury, stroke or other neurological condition. Neurorehabilitation is an integral part of medical management and continues longitudinally through acute care, post-acute care until community integration. Services offered at Physiotherapy Jaipur for Neurological Rehabilitation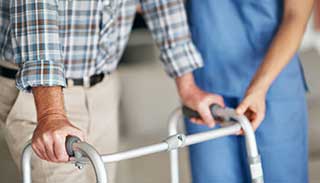 The neurorehabilitation programme is divided into four services as per primary impairments and functional needs:
Neurocognitive Service: Brain injury, tumour & aneurysms and anoxic brain damage with primary cognitive / behavioural / speech / swallowing issues and minimal physical and medical needs.
Neurophysical Service: Parkinson's disease, multiple sclerosis, anoxic brain injuries, motor neuron disease, Guillain Barre Syndrome, peripheral neuropathy, and muscle diseases with primary sensory / motor dysfunction with disability in performing activities of daily living and mobility.
Stroke Service: Ischemic / hemorrhagic stroke with multiple disabilities in mobility, self care, balance, coordination, speech & language, swallowing, cognitive and sensory / perceptual skills.
Spinal Cord Service: Traumatic and non-traumatic spinal cord injury, spinal tumour, transverse myelitis & related conditions with paralysis and bladder / bowel / sexual disability.
OPENING hours
---
Mon-Sat: 9:00am-5:00pm
Sun: 10:30am-11:30am
Phones
---
e-mail
---